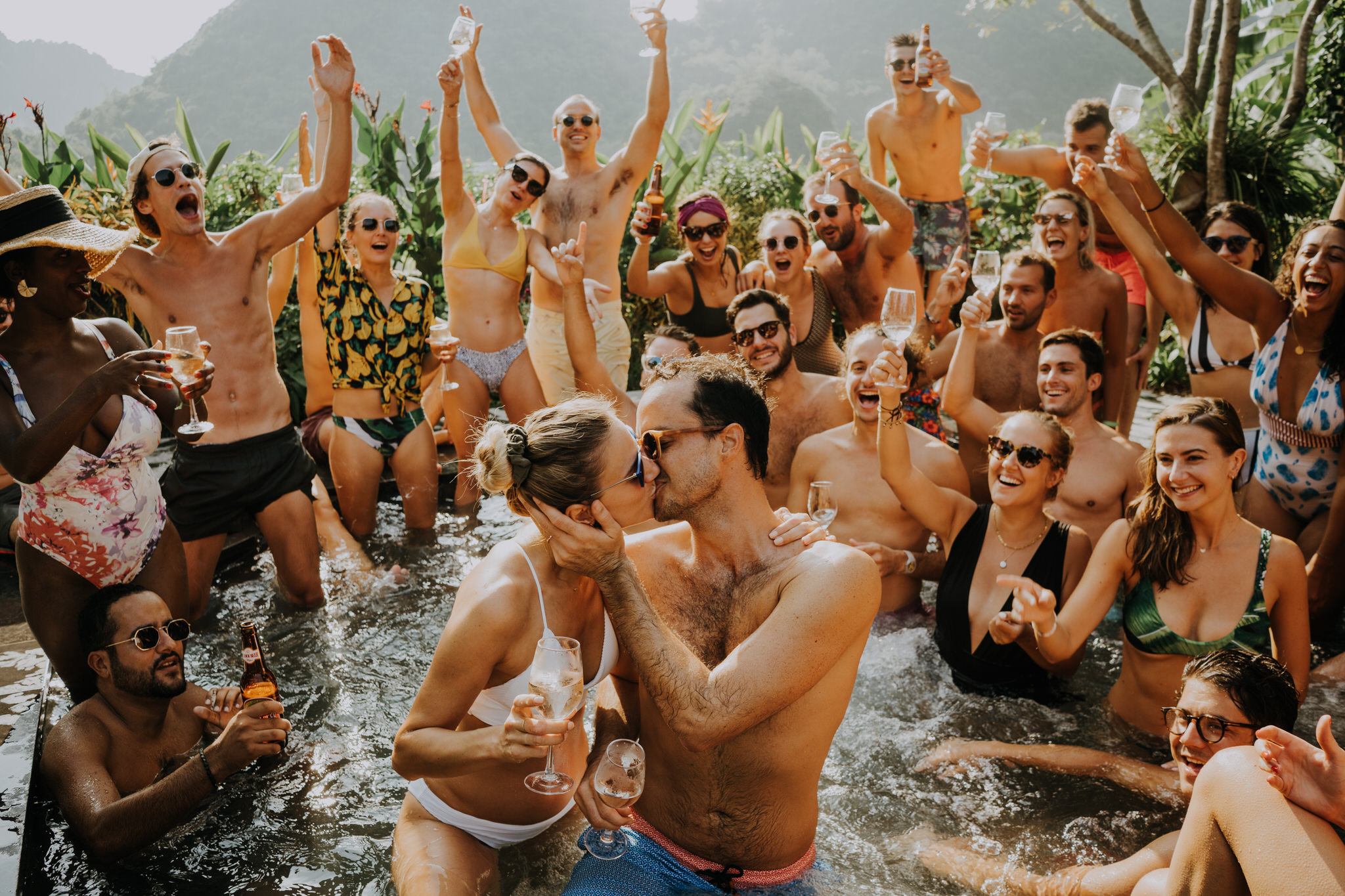 Each time a couple exchanges their rings, we have the opportunity to listen to their love story and how they got here. But there is nothing quite like the ceremony of Mathilde and Théo.
After Mathilde walked down the aisle with her father, people began to take seats. There was a lectern so close family and witnesses could take turns to share their feelings. Many prepared a copy of their speech.
And we soon realized that is the French style, in which the groom and bride are surrounded by the people they cherish the most and hear all the kind words as the witness of their love.
The speeches lasted about an hour and we got to hear the most lovely vows from Mathilde and Théo. The history, the love, the future were all included as a promise of their love for each other.
The ceremony was simple, but the feeling was so real. As bystanders, we couldn't keep our hearts from softening after every speech. Even though we didn't understand a single word, the emotion needed no explanation.
Thank you groom and bride for trusting us and giving us a chance to join in your big day with you and tell your story by our photos. Congrats Mathilde and Théo!
"Mirror Wedding covered our wedding in Vietnam and our experience was simply amazing.
Before the wedding, mirror wedding team took the time to meet us and had us fulfill a questionnaire, so they can get to know us better. It really helped them to nail who we were as well as our expectations, without us investing too much time.
On our big day, the team was incredibly professional, patient and friendly. They split their group in two so they could cover both our preparations and they managed to take tons of amazing pictures without us feeling overwhelmed.
Even though the ceremony was not in Vietnamese they successfully managed to 'feel the emotions' and captured them all in their pictures. All day long, they ran from one point to another trying to take as many pictures as possible of both ourselves and our guests.
We must say the quality of the team and the pictures was well beyond our expectations and we can only recommend Mirror Wedding team for your events. Not only you will surely get great pictures from your event, you will enjoy working with such a nice, talented and friendly team of photographers." – Mathilde & Théo
Mirror Wedding Photographer
Planner: Thao Nguyen
Decor and Coordinated: WedinStyle – The Stylish Wedding Planner of Vietnam
Venue: Tam Coc Garden – Authentic & natural resort