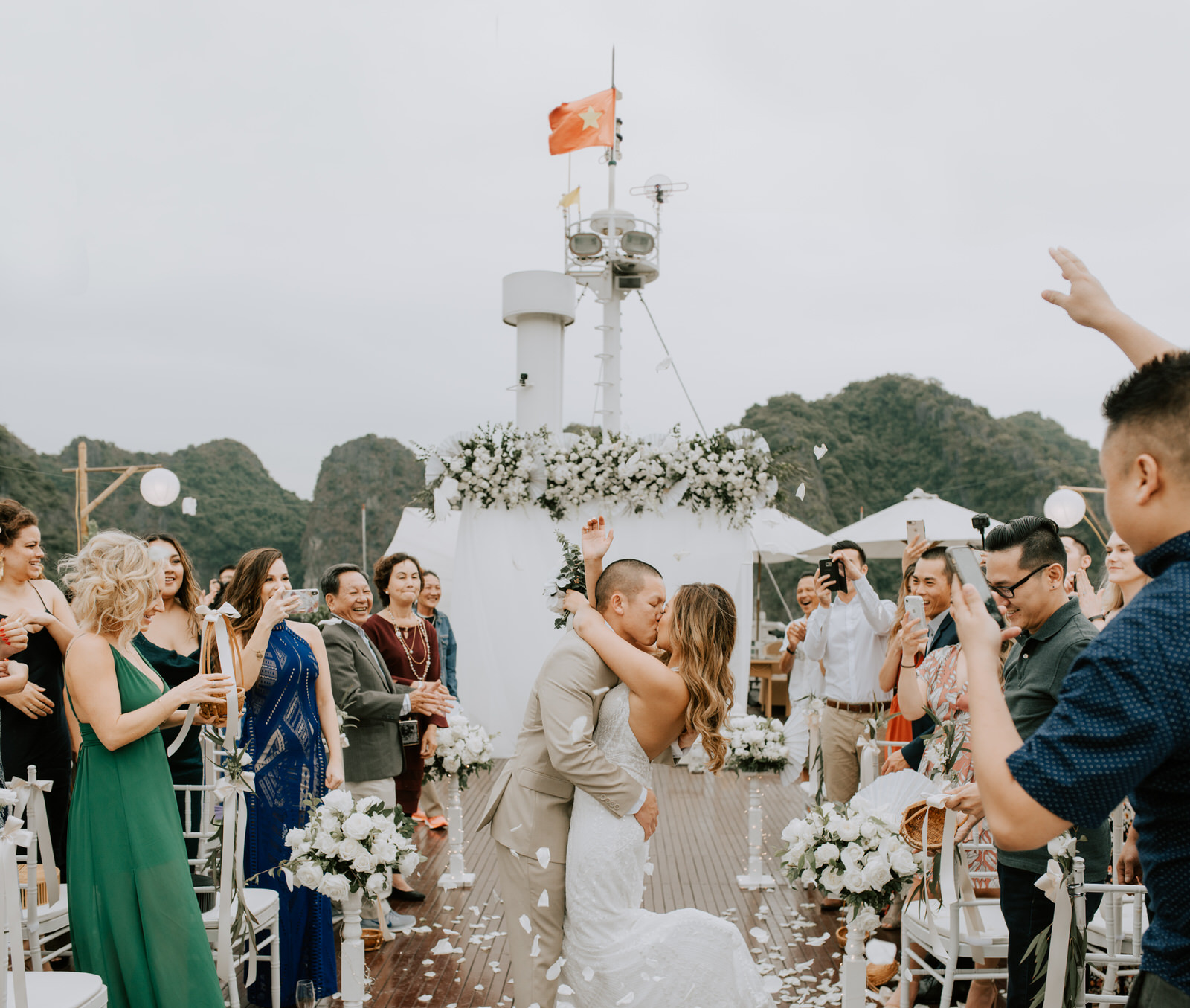 A few years ago, i'm very happy every time I had a customer book a wedding photography package for them a month before. But some time later I heard that there are customers who are willing to order wedding photography packages a year before. Usually these are foreign customers. I wonder why so long?
After a long time of working, I realized that setting a wedding calendar before a year is a great thing. Time is long enough for customers to prepare everything for the big day, as well as i have enough times to prepare me for the shooting day. And I dreamed of having those great customers.
Thao Tiet and Reallen sent me an email to book a photography package from the previous year for their wedding day this year. This is really the first wedding that I booked a year ago. That is my dream. I had to work hard to get that. And this is also my first wedding day on the yacht.
Thao Tiet and Reallen used to travel by Bhaya cruise ship and they were impressed by the majestic nature of Ha Long as well as the style and comfort of Bhaya cruises. So they decided took all their families and their close friends to Ha Long to enjoy this wonderful tour.
Since setting sail with its first boat in 2007, Bhaya Cruises has earned its place among the most well-reputed operators with the largest fleet of cruise boats in Halong area. Through innovative cruise designs & a programme of annual renovations to keep its ships meeting very high safety criteria, Bhaya sets the standard for Halong Bay cruises. Cruise routes focus on less-visited parts of the bay so everyone are more likely to have the scenery to yourself, & a range of cultural activities includes the popular Vietnamese cooking demonstration, a traditional tea ceremony & getting an up close & personal view of local life while visiting a floating fishing village on the bay or Viet Hai Village on a nearby island.
Thank you groom and bride for trusting me and giving me a chance to join in your big day with you and tell your story by my photos. Congrats Reallen and Thao Tiet!
–
Mirror Wedding Photographer
The Cruise Coordinator: Tu Bui
Planner: Bhaya Cruises
Videographer: Great Wedding Films
Venue: The Au Co Cruise – Halong Bay